ADVANTAGE TRAVEL
of CNY, Inc.
3208 W. Genesee Street, Suite D
Syracuse, NY 13219


Our Staff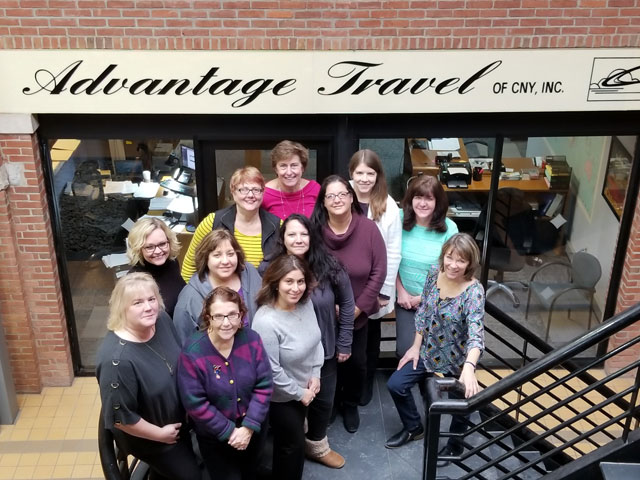 Suzanne K. Devorsetz
Agency Founder
sdevorsetz@advantagecny.com
Ms. Devorsetz has devoted her professional career to the travel industry. She started as an interpreter, ground hostess and reservation agent for Lufthansa and El Al Airlines, both in Europe and the United States. She has lived in France, Hungary, Austria, Australia and Germany and is fluent in six languages. For the past 30 years Ms. Devorsetz has concentrated in international travel.
Mary Anne Clark
General Manager
Head of the Study Abroad Travel Department
maclark@advantagecny.com
Ms. Clark is the first point of contact for universities and faculty regarding group travel. She graduated from Alfred University and studied abroad in Spain. Ms. Clark has been actively involved in the travel industry since 1976 and has extensive experience arranging group and study abroad itineraries.
Patty Perless
Business Manager
pperless@advantagecny.com
Ms. Perless is responsible for agency development, contracts and finances. She began her career in travel by providing accounting services to various travel agencies while practicing as a certified public accountant.
Pamela Devlin
Team Leader for the UK and Central and South America Study Abroad Divisions
pdevlin@advantagecny.com
Ms. Devlin earned a degree in Travel and Tourism from Herkimer County Community College. With over 30 years of group planning experience, she is a highly qualified, experienced member of our staff.
Carm Coleman
Team Leader for the Africa and Australia and New Zealand Study Abroad Travel Divisions
ccoleman@advantagecny.com
Ms. Coleman graduated from Bryant & Stratton with a degree in Travel and Tourism Management and has over 20 years of experience. She began her career as a reservation sales agent for a major airline and has been with Advantage Travel since 2000.
Vicky Geswaldo
Team Leader for the Accounting/Financial Division
vgeswaldo@advantagecny.com
Ms. Geswaldo graduated from SUNY Cobleskill with a degree in Hotel Management. After 15 years experience in the hotel and banking industries, she joined Advantage Travel in 2001.
Susan Gordon
Europe Study Abroad Travel Division
Certified Travel Specialist for Australia and New Zealand
sgordon@advantagecny.com
Ms. Gordon has lived in Spain and is fluent in Spanish. She has been a travel professional for over 25 years with experience in leisure travel and group coordination. She joined Advantage Travel in 2002.
Gabriella Bonney
Europe Study Abroad Travel Division
gbonney@advantagecny.com
Ms. Bonney graduated from SUNY Delhi and has a degree in Travel and Tourism Management. She has been in the travel industry for over 12 years and with Advantage Travel for more than seven.
Barbara Conley
Europe Study Abroad Travel Division
bconley@advantagecny.com
Barbara graduated from Bryant and Stratton with a degree in Travel and Tourism. She spent 7 years in the travel industry early in her career and 20 years in accounting. Barbara joined Advantage Travel in 2016.
Missy Severance
UK Study Abroad Travel Division
mseverance@advantagecny.com
Ms. Severance is responsible for coordinating study abroad travel to England, Ireland and Scotland and also assists the Accounting Department. She has over 14 years of travel agency experience and has been with Advantage Travel since 1998.
Colleen Crandall
Corporate Travel Department
Europe and Asia Study Abroad Travel Divisions
ccrandall@advantagecny.com
Ms. Crandall is a graduate of Travel Agents International with 25 years of industry experience, primarily as a corporate agent and agency manager. She has extensive knowledge of both domestic and international travel.
Abbey Winters
awinters@advantagecny.com
Ms. Winters graduated from Syracuse University with a degree in International Relations & Russian/Central European Studies. She has studied abroad in Italy, Poland, and Belgium. Having traveled to 26 countries, she has developed a strong passion for international travel and global education experiences.